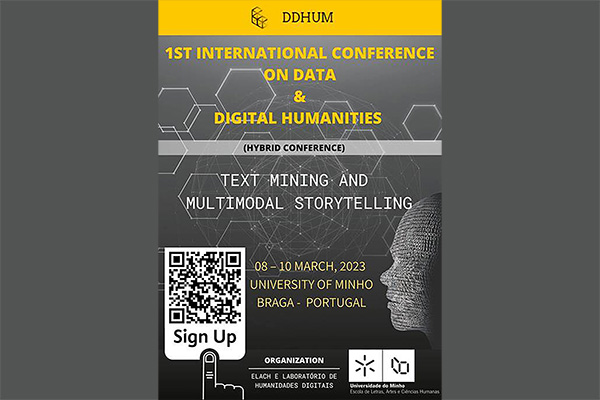 Register for the hybrid International Conference on Data & Digital Humanities organised by the University of Minho
The University of Minho (UMinho) invites Arqus researchers to attend and participate in the 1st International Conference on Data & Digital Humanities — Text Mining and Multimodal Storytelling, which will be held on 8th, 9th and 10th March at this university as a hybrid event.
The Conference, organised by the UMinho Center for Humanistic Studies (CEHUM), aims to share research results and bring new practices for text mining, open data and open science to the academic community. It is mainly directed to linguistic experts, data scientists, IT professionals, developers, and anyone with a keen interest in generating insights from textual data to participate and share ideas on how open sources paradigm and new emerging research text analysis/analytics methods are applied to different fields of humanities and social sciences as well as to discuss current and future challenges.
The theme of the event for this year is "Text Mining and Multimodal Storytelling", which is designed to explore the challenges and opportunities facing various academic disciplines. Topics include the following but are open for additional:
Getting text data: Where and how do digital humanists find and clean their text data?
Finding inspiration in text data: How do digital humanists find inspiration in their text data?
Telling a story with text data: Why do digital humanists need to tell stories with their text data?
The Conference is organized as a virtual and face-to-face event and will include hybrid presentations by keynote speakers, workshops and panel discussions that bring together text data experts looking for sharing, inspiring and innovating in the field of humanities and social sciences in the digital age.
Interested researchers to attend as listeners need to fill out the following registration form. To participate in the workshops, they need to complete this form.
Registration is free but mandatory. For more information about the conference schedule, keynote speakers, and other important details please visit this website.