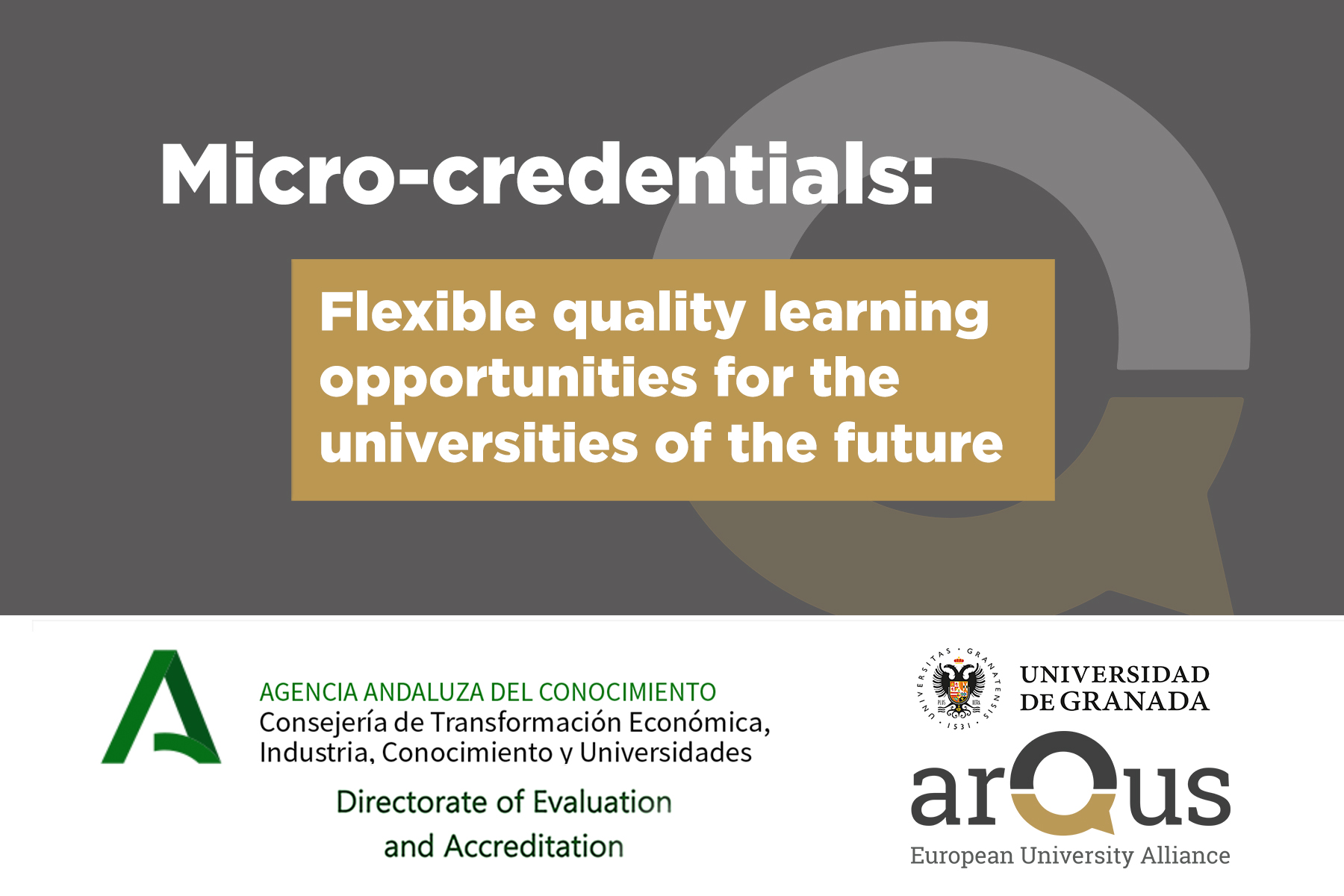 UGR holds a webinar on micro-credentials together with the Andalusian Quality Assurance Agency (AAC-DEVA)
Next Wednesday 24th March from 10:00 am to 11:30 am CET a webinar entitled "Micro-credentials: flexible quality learning opportunities for the universities of the future" will take place. This webinar is co-organised by the Andalusian Quality Assurance Agency (AAC-DEVA) in collaboration with the University of Granada, as the coordinating institution of the Arqus European University Alliance.
Micro-credentials open the door to a new approach in higher education in which short and flexible learning opportunities are made possible. These new forms of modular learning make it possible to further open our universities to citizens interested in expanding, updating or complementing their knowledge and skills in a way that is much better suited to their needs and interests. However, it is true that there are issues that need to be addressed to ensure quality learning and its subsequent recognition. The European Commission is therefore developing a European approach to help ensure the quality and transparency of micro-credentials. This webinar aims to analyse the first steps taken by the European Commission in the area of micro-credentials and their implications for higher education institutions and quality assurance agencies.
Speakers:
–Klara Engels-Perenyi, Directorate-General for Education and Culture, European Commission (DG-EAC).
–Maria Kelo, Director of the European Association of Quality Assurance Agencies (ENQA).
–Henri Luchian, former Vice-Rector for International Relations, Alexandru Ioan Cuza University of Iaşi (Romania).
The event will be supported with simultaneous interpretation between Spanish and English. There will be a bilingual Q&A time after the speakers' interventions.
The period for registering is over.
More information about the topic:
A European approach to micro-credentials
https://ec.europa.eu/education/education-in-the-eu/european-education-area/a-european-approach-to-micro-credentials_en
MICROBOL project (Micro-credentials linked to the Bologna key commitments)