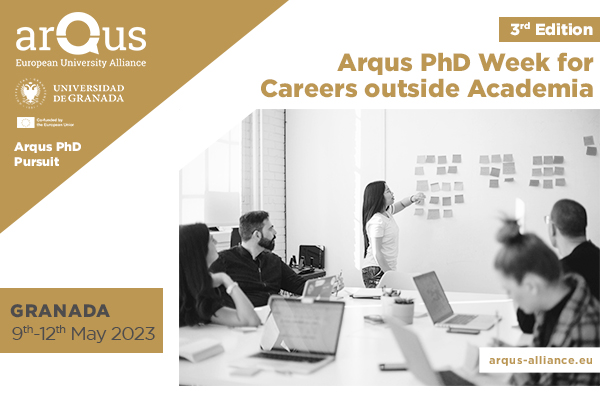 The 3rd Edition of the Arqus PhD Week for Careers Outside Academia kicks off today in Granada!
The third edition of the Arqus PhD Week for Careers Outside Academia "Granada Arqus PhD Week: PhD, and now? Explore new professional opportunities beyond the world of academia" kicks off today in Granada. The PhD Week brings together 30 doctoral researchers, PhD graduates and career development experts from the nine Arqus universities to participate in a 4-day intense training course aimed at supporting PhD candidates and early post-docs in navigating the challenge of career possibilities outside academia and developing the necessary hard and soft skills for this endeavour.
The workshops, taught by trainers experienced in PhD support and career development fields, offer perspectives from diverse international backgrounds and look for:
Offering students an international and multicultural environment.
Making participants aware of their competencies and enabling them to make these skills explicit to others.
Teaching students to develop entrepreneurial (and intrapreneurial) projects.
Helping PhD candidates and early post-docs to recognise the value of their doctorate and skills, and increasing their employability opportunities in other professions.
The Arqus Alliance has supported the participation of 4 advanced PhD candidates and early-stage post-docs from each Arqus university.
The PhD Week is developed in the framework of the Arqus PhD Pursuit, the Alliance's initiative that stands for bridging research and education to prepare early-stage researchers for existing and emerging grand societal challenges by enhancing their international competitiveness inside and outside academia and contributing to regional and European innovation strategies.
The previous editions were hosted by the University of Graz in October 2021 and the University Lyon 1 in April 2022.
The full programme of the Granada Arqus PhD Week can be downloaded here: