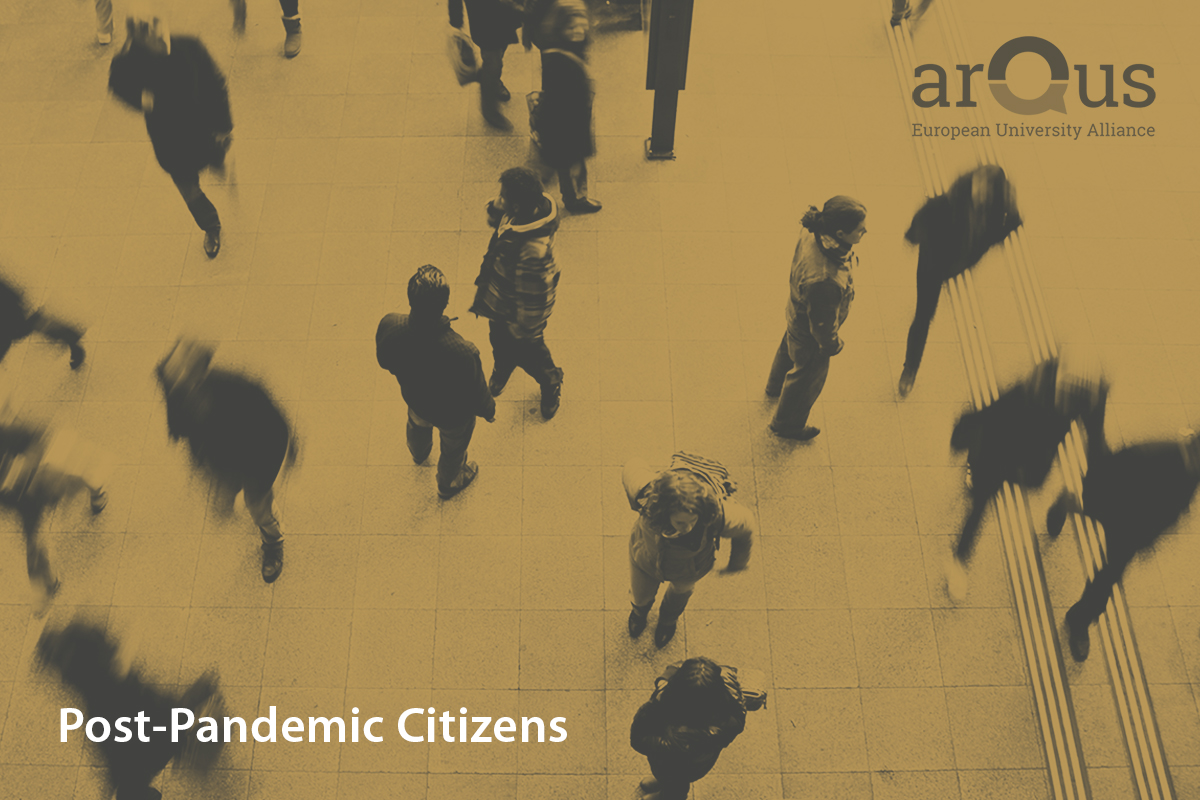 Arqus holds its first Arqus Academic Debate with experts of its member universities
A new activity is about to start in the Arqus European University Alliance: the Arqus Academic Debates.
The Alliance counts with 7 multidisciplinary partners that provide an endless resource of knowledge and initiatives. With this new activity, we will bring together researchers and academics of diverse fields that will share with the public their approach to different topics from their expertise and research.
The first Arqus Academic Debate will be about Post-pandemic citizens, a very hot topic nowadays, and will take place on the 18th of June at 7 pm CEST on the Arqus YouTube Channel.
Engaged European citizenship is a key feature of the alliances. The academic dialogue will explore how the Covid-19 has affected and will continue to affect Scientific knowledge and citizenship as key components in western democratic societies. Through this dialogue Arqus partners aim to benefit from different experiences and research perspectives, to address global and local challenges and stimulate new perspectives related to the societal impacts of the pandemic. Questions about possible changes can be asked along axes both political and scientific:
With the radical lock-down and closing of borders, are we still citizens of Europe?
Will the Schengen area go back to normal, or will there be 'a new normal' with less travel, more control and more surveillance?
Are we back to being citizens of single national states, as claimed by some?
Many places have also seen re-emergence of boundaries within single countries themselves. When regions and municipalities close their borders, however temporarily, is this a threat to the nation states as ultimate guarantees of citizenship?
The debate is open to anyone with an interest in the topic of citizen engagement, and the target audience of the event includes students, researchers, civil society, policy makers and teachers.
The members of the panel are Béatrice Espesson-Vergeat (Professor at the University of Lyon), Hakan Gurcan Sicakkan (Professor at the University of Bergen), Matthias Middell (Professor at Leipzig University) and Pietro de Perini (Researcher at the Human Rights Centre, University of Padova). In this occasion, the moderator will be Kjetil Rommetveit (Associate Professor at the University of Bergen).
Remember: 18th June, 7 pm CEST, on the Arqus YouTube Channel.
Original news by Andrea Magugliani, University of Bergen: https://www.uib.no/arqus/136530/post-pandemic-citizens.