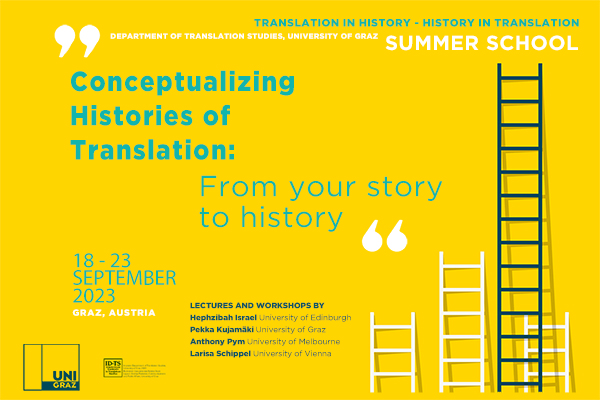 Graz invites Arqus PhD students to participate in its Summer School "Conceptualising Histories of Translation"
University of Graz
|
30 May 2023
The Department of Translation Studies of the University of Graz invites Arqus PhD students to participate in the Summer School "Conceptualizing Histories of Translation: From your story to history" which will take place from 18th to 23rd September in Graz (Austria).
The focus of the School will be on contextualizing the own case studies of the participants and exploring the theoretical relevance and significance of these examples for translation history.
Renowned speakers will provide theoretical and methodological insights through workshops, encouraging lively discussions and debates.
The School will also offer opportunities for participants to discuss their work and related issues in small groups or individual consultations with researchers from the Department of Translation Studies in Graz. This will enable PhD candidates to further develop their projects and ideas.
The lectures and workshops will be led by the following academics:
Hephzibah Israel, University of Edinburgh.
Pekka Kujamäki, University of Graz.
Anthony Pym, University of Tarragona and Melbourne.
Larisa Schippel, University of Vienna.
Applications from all disciplines are welcome. Applicants should demonstrate their interest in translation and/or interpreting history in a short description (1 page) of their PhD project. Selected participants will be expected to prepare a poster of their PhD project by 1st September 2023.
The course costs 150 Euros. This price includes participation on-site, refreshments during breaks and print costs for poster presentations.
The application deadline is 5th June. To apply, please contact th.summerschool@uni-graz.at