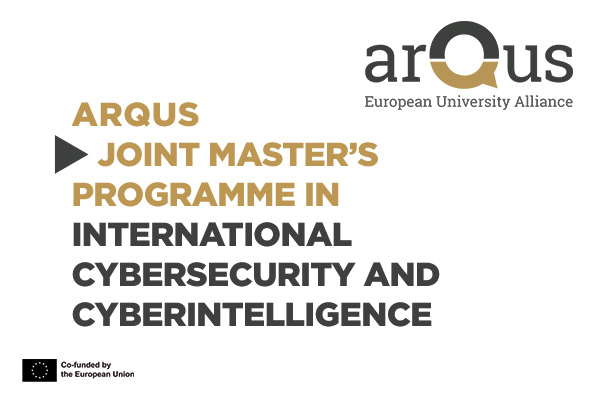 Arqus Universities sign the Cooperation Agreement for the new Arqus Joint Master's Programme in International Cybersecurity and Cyberintelligence
The Universities of Granada, Minho, Padua and Vilnius have signed the Cooperation Agreement for the Arqus Joint Master's Programme "Master in International Cybersecurity and Cyberintelligence". The degree will be a full-time Master's Programme jointly developed and taught in English. It will offer specialised academic education in Cybersecurity, Cyberintelligence and International Relations for Cybersecurity, and will be jointly carried out through the use of physical mobility and/or students attending virtual, blended and local courses.
Gabriel Maciá, one of the Coordinators of the Programme and Professor of Signal Theory, Telematics and Communications at the University of Granada, declares that "this Cooperation Agreement is an important achievement after a long journey that implies the first stone in the building of the grand project we have in hands" and adds that "the signing of this Agreement marks a breakthrough in the development of joint programmes in the Arqus Alliance. Our goal is the creation of an ambitious joint programme to train students in cross-cutting knowledge in cybersecurity with a special emphasis on understanding the mechanisms related to cyberintelligence in international environments". Namely, based on an interdisciplinary and international range of courses, students will acquire capabilities to understand global cybersecurity and cyberintelligence mechanisms and leverage cooperation among international actors.
The Joint Master's Programme will qualify excellently trained and highly motivated international graduates who have completed an academic degree of at least 180 ECTS credits in Information Technology programmes (e.g., Computer Science, Computer Engineering, Information Systems, Telecommunications, Informatics, Software Engineering, etc.). It will comprise 120 ECTS credits taught in English, which corresponds to a regular study period of four semesters or two years, with the students moving around the four universities in the consortium: the University of Padua for the first semester, Vilnius university for the second semester and the University of Granada for the third semester. Finally, the fourth semester will be dedicated to the Master's Thesis (with remote or local tutoring), ending with the graduation week to be held face-to-face at the University of Minho.
Universities will attempt to offer financial support through existing international mobility programmes, such as Erasmus+ and other local or national scholarship programmes, based on the availability of funding.