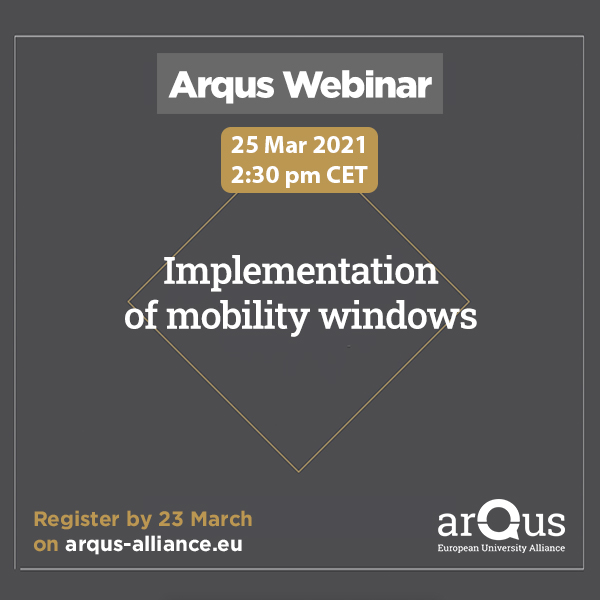 Arqus holds a workshop on mobility windows to show their benefits and share best practices
​
On 25th March at 14:30 CET, the Arqus European University Alliance organizes the online workshop "Implementation of mobility windows" with the aim of getting acquainted with the definition of mobility window and discussing the ways of integrating it into the study programme curricula. The workshop is open for academic and administrative staff at the Arqus universities.
The Arqus Alliance defines a mobility window as a period of time reserved for international student mobility that is embedded in the curriculum of a study programme. They can be more or less flexible in terms of mobility experience, contents and duration (Mobility Windows, Ferencz et. al. 2013).
One of the goals of the Arqus Alliance is to pilot mobility windows in one study programme of each Arqus university and to develop guidelines for credit accumulation and student progression. With this workshop, the academic and administrative staff of the Arqus universities will get to know the benefits of implementing mobility windows in the study programmes as well as examples of best practices to analyse and follow. The workshop aims also to be a platform to network and to start collaborations for the development of new mobility windows.
Please register here within the 23rd of March. A Zoom link to the workshop will be sent to registered participants by the 24th of March.
Programme:
-Welcome
-Introduction to the topic – short draft of the theoretical concept of mobility windows
-Presenting good practices
-Group work: discussion of possible ways of using mobility windows to strengthen our programmes – possible obstacles and solutions
-Sharing experiences and results
This activity belongs to Action Line 3, Student-centred Frameworks for Quality Learning, an action line that has the objectives of:
– Enabling staff and students via innovative teaching
– Fostering student-centred and research-based learning through joint and flexible curricula
– Enhancing the development of mobility and recognition
Watch the explanatory video created for the occasion:
Join us online on 25th of March from 14:30 to 16:30 (CET). ​