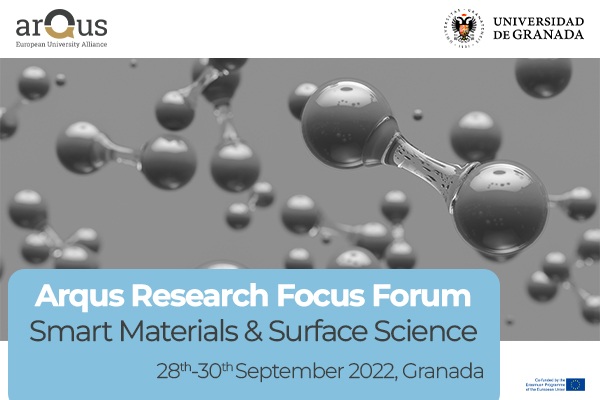 Participate in the Arqus Research Focus Forum on Smart Materials and Surface Science in Granada!
From 28th to 30th September, the University of Granada will host the Arqus Research Focus Forum "Smart Materials and Surface Science". The University invites researchers, professors and post-doctoral students from the Alliance to participate in this event aimed at sharing their knowledge experience and project developed under these topics; showing their facilities; presenting their research groups and exploring future collaborations.
The organizing team of the Research Focus Forum is composed of different researchers from the University of Granada who have designed a program for 3 days that includes:
Scientific plenary sessions with the presentation of different research groups and their ongoing activities dealing with smart materials and surface science.
Plenary sessions where the Early Stage Researchers (ESRs) will have the opportunity to expose their research project to a panel of experts in this field.
Networking activities.
Visits to interesting facilities at the University of Granada.
Outreach event at the European Researchers' Night organised by the University of Granada as well as social and cultural activities.
The registration is open until 25th July 2022 through the following link.
Please, contact the Project Officer at your university for questions related to funding available for travel and accommodation costs for Arqus participants. For logistics issues, please contact the Arqus Project Officer of the University of Granada. For academic questions, you can ask Mayca Rubio Gámez, member of the Academic Committee.