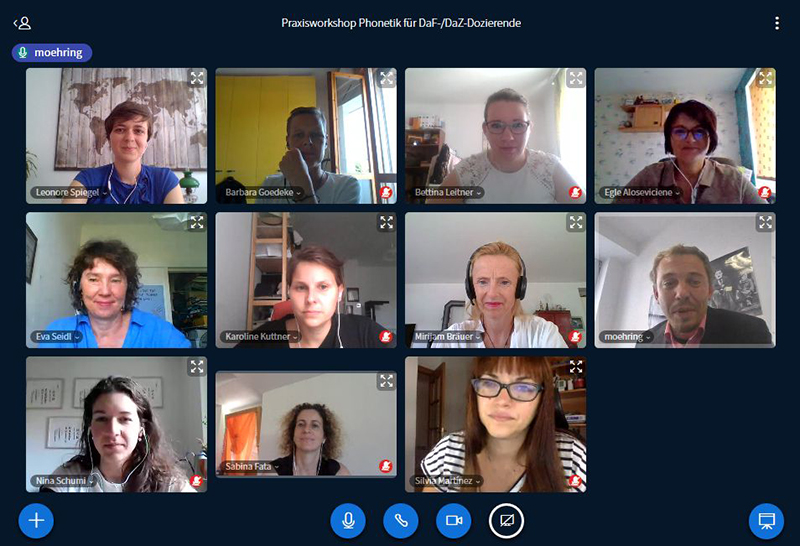 Arqus holds its first virtual workshop for teachers of German as a foreign language
For every lesson, but especially for teaching (in) a foreign language, clear and correct pronunciation is a prerequisite for success. "Research studies on the effects of speaking have shown that the better the pronunciation, the more competent you will be rated by the listeners," explains Leonore Spiegel, the phonetics trainer of this workshop on how to teach pronunciation in German as a foreign language (DaF).
Leonore has spent more than six years focusing on phonetics, phonetics training, working with German learners and, in particular, the further education and training of teachers in the field of phonetics in German as a foreign or second language.
In this workshop, organised by Leipzig University, Leonore Spiegel used a variety of practical exercises to share her knowledge with DaF teachers from the seven Arqus partner universities. Participants were given the opportunity to improve their own pronunciation of German and at the same time learn helpful methods for teaching phonetics. The workshop lasted several hours and covered four main topics: intonation, articulation, vowels and consonants. Both the trainer and the participants were in agreement: phonetics is all about practice, while articulation is a sport itself!
The following feedback shows just how beneficial the workshop was for the teachers and their own teaching methods:
Nina Schumi (Graz)
Besides Leonore's evident expertise and her very pleasant way of speaking, her explanations and responses to questions were very useful. For me, involving the participants by asking questions and trying out exercises helped with both concentration and remembering things. It was an excellent way to teach.
Egle Aloseviciene (Vilnius)
The workshop was very well organised and a complete success, both technically and in terms of content. I got lots of useful information and tips out of it.
Kerstin Gackle (Leipzig)
I thought the workshop was well structured and informative. We also received a lot of practical tips on how to help students produce specific sounds. I plan to use the multi-user mode in my own workshops in the future.
Bettina Leitner (Graz)
I found the workshop very helpful, especially the tips and when we all tried the exercises for practising new sounds. I also found the incorporation of media very useful. It has given me plenty of inspiration for my own course.