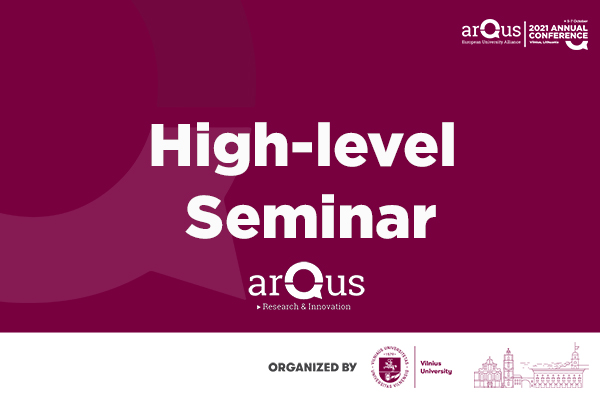 Arqus holds its second high level seminar as part of the Arqus Annual Conference 2021
On 7th October 2021, the Vice-Rectors for Research and other Senior Research Policy Officers of the seven Arqus universities are meeting in the 2nd High Level Seminar to discuss joint research initiatives.
The main point on the agenda is a Joint Research Action Plan that is being drawn up to create the framework conditions for an intensified cooperation between research teams, sharing of high-end research infrastructures, and strengthening their joint support of researchers, respecting the inherently bottom-up nature of research collaboration.
A first version of the Joint Research Action Plan is due in March 2022 and it will updated at successive High Level Seminars.
After the 1st High Level Seminar held in Granada in the month of March 2021, Vilnius is the second meeting of high level research officers of the seven Arqus universities.
Arqus Research and Innovation endeavours to respond to the societal challenges in the areas of Climate Change and the Digital Transformation and therefore the Joint Research Action Plan will also focus on how to facilitate optimal use of European funding opportunities under Horizon Europe, the Green Deal and the European Digital Agenda.